While emotional outbursts are counter-productive in general, there will be times wherein you have to learn how to deal with it. This can either be you personally experiencing it or maybe a stressed out subordinate of yours or a business partner.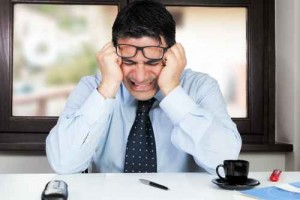 Regardless, it is important that you are able to spot behavior that may potentially lead to emotional outbursts and neutralize them as soon as possible. So how do you spot and handle emotional outbursts?
Spotting and Identifying It: As they say, "prevention is better than cure" and this holds true when it comes to handling emotional outbursts. If you are a business owner, make a conscious effort in finding ways to make the work environment conducive to your employees or business partners. If you are an employee, you may want to find ways to manage your stress better such as having an active lifestyle and being open with your thoughts and sentiments to your superior. This will at least help diffuse the potential of emotional outbursts coming from you or from your co-workers or business partners.
Listen: Is your co-worker interacting with people in a louder tone as compared to his or her regular tone? Is your superior's voice lacking energy as he or she is trying to explain what to do with the current project? Is your business partner speaking over the phone but somehow, you noticed that his or her fists are clenched? These are some of the things that you have to take into account. Learn to identify a person's emotional state through the way he or she verbally express him or herself.
Ask Questions: Do not forget that one way to go about this is to ask the subject directly especially if you and the subject are good friends, or at least close enough to share each other's sentiments. Or if you are in a situation and you feel that the other person is trying to keep him or herself calm but you sense an unpleasant aura then you may start asking questions that can help draw out what they are really thinking of. Make them share their frustration and by doing so, the other person is more likely to calm down.
Validate The Emotion And Empathize: People are more likely to get defensive and frustrated if you ignore what they are feeling. In addition to listening, you need to validate the frustrated person's emotions and empathize. This will at least help calm them down. Do not expect people to listen to you if they are overwhelmed with emotion. Remember, emotional people are not rational hence they cannot make decisions objectively and tend to be impulsive when it comes to decision making.
Emotional outbursts are destructive when it comes to a business and interaction between people. However, being able to spot the body language that will give you a feel that a person is on the verge of breaking down can greatly help when it comes to improving your relationship with people.