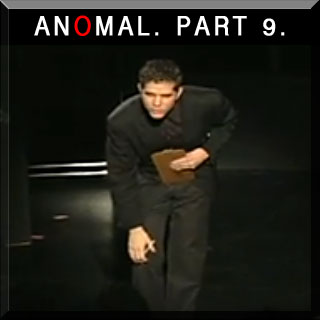 A great performer is, he who dares to take up different roles in life and in this ninth part of the mentalist show "Anomal" off-Broadway, the mentalist Ehud Segev is sure to be one among them, who is brave enough to bring "Life" on stage. His father wanted him to join the army, but he decided to become a warrior to bring a change. But this change is not the change through war of guns and fighter planes. Instead, he is fighting to bring a change in people's hearts with love…
(parts of comments written by viewers:)
From the great mentalist's performance, it's pretty evident that he loves the word L and he communicates with Love, Laughter and Learning, and last but not least of all, Listening, an energy, which he creates in the listener.
Mr. Ehud very uncannily projects riddles in this art play session into everybody's minds, as he shoots an arrow in the dark with a question, "Who was in San Francisco a couple of weeks back?" A woman responds, as she turns out to be the one who had been on a vacation in the previous edition, Anomal – Part 8. She reveals her name as Magi. He further asks her, if she would be impressed if she got to know her answers were already written in the secret envelope that's lying in the gentleman's pocket, which Mr. Ehud did, in the previous edition.
Mr. Ehud and Magi continue to exchange further details of her travels as he notes them down on his pad, and proceeds to unveil the suspense by increasing it further, and shouts he would write an amount that would be sufficient for the trip that would last for a week. A member prompts with forty dollars and the fun continues as the jester's pen refuses to stop.
To make it more enthralling, which is natural to our beloved performer, he removes his wallet and hands it over to a woman he trusts with his money, and asks her to count it. As she is just about to say three, he's abrupt enough to say, three hundred, to which there is a peal of laughter, and she affirms it's only three dollars. As he is about to add up the three with the forty written on his pad, a kid prompts as forty three, to which he praises the American education to add more fun to his gesture. So, he entrusts it with her as he continues with his mysterious communication of energies, hinting us there is a trick behind every action, and every action has a hidden answer, which he unfolds very meticulously.
He summons the gentleman with the secret envelope on stage, and asks him to read it, and he looks at the paper, and says, "It's exactly the same". The audience is awestruck at this wonder, but Mr. Ehud seems discontent with his incomplete act, carrying more desires to thrill his admirers. He searches for his wallet absentmindedly, as the woman reminds him that she's got it, as all of this is taking place in a humorous fashion, he asks her if she gave it to anybody and she swears she didn't. But still he refuses to touch it and asks the gentleman on stage to take it from her.
No sooner it happens, our mentalist further continues with his message that nobody can predict the future, unless somebody has some visions, and in an abrupt manner reveals that he did have some visions, a couple of nights back, slowly revealing layers of message that the future is in our hands, and only we can do something to change it for the better, instead of being dependent on somebody else for a prediction, and waiting for something good to happen, when we do nothing to change the "now".
Mr. Mentalist weaves his wand and reveals the answer to the future concealed in his wallet, as he requests the gentleman to open the secret compartment, as it leads again to a world of love, care, and compassion for each other. In what fashion does he reveal this answer? It's for every one of us to watch him perform, for it's a message very direct, from the heart.
Mentalist and corporate event entertainer, Ehud Segev the Mentalizer, Performs "ANOMAL – A Supernatural Play" off-Broadway in Times Square, New York City, NY
The Mentalist and corporate events entertainer Ehud Segev performing live in Times Square.The American Theatre of Actors in New York City, NY.