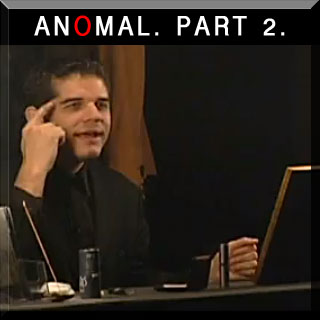 In this second part of the mentalist show "Anomal" off-Broadway, the mentalist Ehud Segev seems to demonstrate mysterious fun excited thrill and tons of laughter. in this one man mentalism show, the mentalizer focuses on certain audience members who are helping him in his great mentalist tricks that he wants to convey. he starts the show with some suspense and very fast he grabs his audience and puts them on the edge of their seats!
(parts of comments written by viewers:)
In this part of ANOMAL, the mentalist gives a whole new meanings to "the Jigsaw puzzle game". Every one piece has importants to be put in a right place and he describes it in such a spiritual way as to say how "We are all connected – and each one of us has a special place intended just for him!". This awe and stunning trick of mentalism amazes the audience continously… A must see!"
One could say that ANOMAL, the mentalist Ehud's latest off-Broadway show, is a magic show or some sort of a telepathy act… It could also be said that this is an intuition or psychic power…
But the bottom line is that this show, above all these things, is a demonstration of excitement, suspense, mystery, use of the sixth sense and ultra use of the mind.
The mentalist Ehud Segev possesses the power to connect himself to the audience and the amazing mentalist tricks he demonstrates proves it. There may be some tools to read someone's mind exactly – and if there are – then the Mentalizer knows how to use it!
Mentalist and corporate event entertainer, Ehud Segev the Mentalizer, Performs "ANOMAL – A Supernatural Play" off-Broadway in Times Square, New York City, NY
The Mentalist and corporate events entertainer Ehud Segev performing live in Times Square.The American Theatre of Actors in New York City, NY.