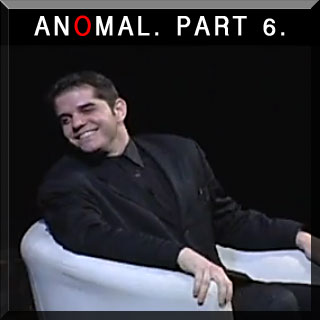 In the video "The Mentalist off-Broadway show "Anomal" – Part 6" mentalist performer Mr. Ehud Segev is going to play with silver spoons. He starts his performance with amazing words that I would like to share with you. "Ladies and gentlemen, for many years, people are been banning silverware with no reason at all. And tonight I am about to bend silverware with no reason as well. If anybody here thinks he can make things smooth please raise me hand". These are just word but when you will watch talking Ehud Segev these words will be magical for you.
(parts of comments written by viewers:)
In this mentalism performance Mr. Ehud Segev is going to play with some silver spoons. He takes three spoons and gives them to his spectators for examination. "You may check to verify that these metal spoons are made of metal". Now Ehud Segev the corporate events mentalist takes a spoon and bends it WITHOUT touching it! I am sure you will not believe this but only when you will see the corporate event mentalist Ehud Segev doing this you will actually believe that telekinesis exists! He bends the spoon to 900 and he says "I don't know why it only bends till 900". He also bends another spoon.
Third spoon is really interesting for viewers, the great performer Mr. Ehud Segev gives the third spoon in a lady's hand and also catches his spoon hand. Now the Mentalzier rotates his hand in clockwise but he was not touching the spoon, he was just rotating his hand around the spoon. When he displays the spoon top has completed a clockwise rotate and the signature on the spoon (back and forth) were on same side.
These are just words but when you will see the video or more interesting the complete show you will really become the fan of Mr. Ehud Segev as his performance in this video as well as in complete show is incredible.
Mentalist and corporate event entertainer, Ehud Segev the Mentalizer, Performs "ANOMAL – A Supernatural Play" off-Broadway in Times Square, New York City, NY
The Mentalist and corporate events entertainer Ehud Segev performing live in Times Square.The American Theatre of Actors in New York City, NY.