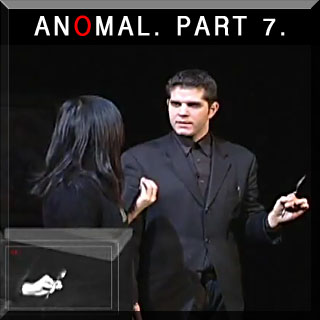 Mentalist and corporate evntertainer Ehud Segev is surely at his best with entertaining audiences, where he shows his love for mysticism, in a theatrical performance in the video, The Mentalist off-Broadway Show "Anomal" Part – 7, is indeed very unique. He comes out with a wide range of skills, and proves how man can control energy and use it as he wants to.  He not only captivates the audience with psychic abilities, but also displays his overall skills, by combining various elements of theatre, which involves acting, voice modulation and body language…
(parts of comments written by viewers:)
His sense of humour is very spontaneous when he calls Jane and asks her, if she feels nothing for sure, which she answers in the affirmative, for which he replies, "You're almost like my girlfriend", and the audience breaks into laughter, and again he comes up with another punch line, "I was only kidding, told you I am single, it was only a joke".
Then he follows up with a stunt, by holding a spoon in his hand and asks Jane to concentrate hard on it along with him and take a deep breath, and he stares at the spoon a long time, and just bends it with his gaze, which is powerful enough to break it. The whole art of entertainment seems to be in the hands of a jester, and the mentalist Ehud seems to control the moods of the audience. At one moment, he takes them on a trip to a world of magic, and suddenly his world on stage, moves through a smooth transition into his life back in Israel. As he dons the character of a story-teller, he starts talking about his relationship with his father, and his influence upon him. The story stakes a serious turn when he has to move out of home and is not in talking terms with his parents for 3 months until he gets a phone call from his mother. It's a message that his father wants to speak to him. He hurriedly gets back home, only to realize a sudden change of events, and gets to know his father is admitted in the hospital. All he can do is, pray for a miracle.
The music is good along with the smooth transition of lights. Our Mentalist Ehud uses the stage very well, and is very meticulous with his performance. He charges the stage with energy and converts the whole stage into real life, and takes the audience along with him into a journey of his own life. Mr. Segev switches between characters very beautifully, as he plays his father, mother and the doctor and also changes his voice according to different characters to perfection.
The stage is set with props systematically which serve as an ensemble, and they change to situations in the story from his office, to his living room, into a hospital.
The shift of energy is noticeable along with the moods of the audience.  His ability to synchronize the different aspects of stage entertainment, and present it as one show, makes him a good performer, and surely this has carved the path for Mr. Ehud, a long way to go, and certainly, there is no way to look back. He can only get better and better.
Mentalist and corporate event entertainer, Ehud Segev the Mentalizer, Performs "ANOMAL – A Supernatural Play" off-Broadway in Times Square, New York City, NY
The Mentalist and corporate events entertainer Ehud Segev performing live in Times Square.The American Theatre of Actors in New York City, NY.